The Liberated Heart was created as a statement of female empowerment, liberation and sensuality. 
Acknowledging that not all women across the world have this privilege, we have made it our mission to make a difference for the women who need this help the most from the precious lands these garments are made.
With every sale from The Liberated Heart, we will be donating 10% of the profits to the Bali Street Mums Project (balistreetmums.org), this project is close to our hearts as it works to empower the mothers of Bali who have been left no choice but to be begging on the streets to provide for their children. 
Especially with the recent affect of the pandemic on the tourism industry on the island of Bali, we are seeing even more mothers lose their jobs and struggle to make a living right now.
It is our greatest pleasure to give back to this island that holds such beauty and freedom to so many of us, and to let that circle back around and support those who keep the magic alive on this island, the local people, the powerful mothers.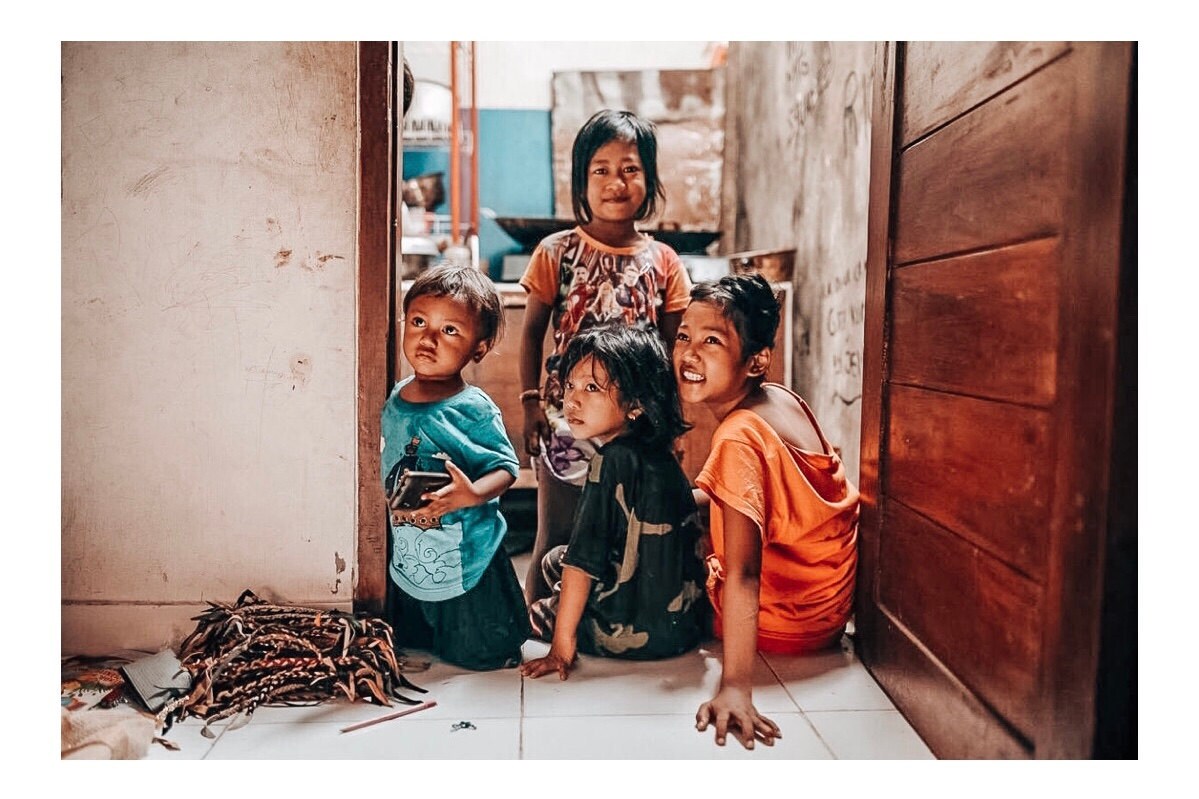 "𝘉𝘢𝘭𝘪𝘯𝘦𝘴𝘦 𝘞𝘰𝘮𝘦𝘯 𝘢𝘯𝘥 𝘊𝘩𝘪𝘭𝘥𝘳𝘦𝘯 𝘪𝘯 𝘱𝘢𝘳𝘵𝘪𝘤𝘶𝘭𝘢𝘳 𝘧𝘢𝘤𝘦 𝘦𝘹𝘵𝘳𝘦𝘮𝘦 𝘤𝘩𝘢𝘭𝘭𝘦𝘯𝘨𝘦𝘴 𝘵𝘰 𝘴𝘶𝘳𝘷𝘪𝘷𝘢𝘭. 𝘏𝘪𝘨𝘩 𝘶𝘯𝘦𝘮𝘱𝘭𝘰𝘺𝘮𝘦𝘯𝘵 𝘢𝘯𝘥 𝘭𝘪𝘵𝘵𝘭𝘦 𝘦𝘥𝘶𝘤𝘢𝘵𝘪𝘰𝘯, 𝘪𝘯𝘧𝘢𝘯𝘵 𝘮𝘰𝘳𝘵𝘢𝘭𝘪𝘵𝘺 𝘢𝘯𝘥 𝘮𝘢𝘭𝘯𝘶𝘵𝘳𝘪𝘵𝘪𝘰𝘯. 𝘈𝘥𝘥 𝘵𝘰 𝘵𝘩𝘪𝘴 𝘵𝘩𝘦 𝘥𝘢𝘯𝘨𝘦𝘳 𝘰𝘧 𝘵𝘳𝘢𝘧𝘧𝘪𝘤𝘬𝘪𝘯𝘨 𝘢𝘯𝘥 𝘧𝘰𝘳𝘤𝘦𝘥 𝘱𝘳𝘰𝘴𝘵𝘪𝘵𝘶𝘵𝘪𝘰𝘯. 𝘜𝘯𝘴𝘢𝘯𝘪𝘵𝘢𝘳𝘺 𝘤𝘰𝘯𝘥𝘪𝘵𝘪𝘰𝘯𝘴 𝘪𝘯 𝘴𝘶𝘣𝘴𝘵𝘢𝘯𝘥𝘢𝘳𝘥 𝘩𝘰𝘶𝘴𝘪𝘯𝘨, 𝘭𝘢𝘤𝘬 𝘰𝘧 𝘳𝘶𝘯𝘯𝘪𝘯𝘨 𝘸𝘢𝘵𝘦𝘳, 𝘱𝘳𝘦𝘷𝘢𝘭𝘦𝘯𝘵 𝘴𝘦𝘸𝘢𝘨𝘦.
𝘋𝘦𝘴𝘱𝘪𝘵𝘦 𝘉𝘢𝘪𝘭'𝘴 𝘵𝘰𝘶𝘳𝘪𝘴𝘮 𝘧𝘰𝘤𝘶𝘴𝘦𝘥 𝘳𝘦𝘱𝘶𝘵𝘢𝘵𝘪𝘰𝘯 𝘢𝘴 𝘢𝘯 𝘪𝘴𝘭𝘢𝘯𝘥 𝘱𝘢𝘳𝘢𝘥𝘪𝘴𝘦, 𝘵𝘩𝘦 𝘣𝘦𝘢𝘶𝘵𝘺 𝘰𝘧 𝘪𝘵𝘴 𝘣𝘦𝘢𝘤𝘩𝘦𝘴 𝘢𝘯𝘥 𝘣𝘭𝘪𝘴𝘴𝘧𝘶𝘭 𝘸𝘢𝘵𝘦𝘳𝘴 𝘩𝘪𝘥𝘦 𝘵𝘩𝘦 𝘵𝘳𝘢𝘨𝘪𝘤 𝘱𝘰𝘷𝘦𝘳𝘵𝘺 𝘰𝘧 𝘪𝘵𝘴 𝘱𝘦𝘰𝘱𝘭𝘦. 𝘙𝘰𝘶𝘨𝘩𝘭𝘺 25 𝘮𝘪𝘭𝘭𝘪𝘰𝘯 𝘱𝘦𝘰𝘱𝘭𝘦 𝘪𝘯 𝘐𝘯𝘥𝘰𝘯𝘦𝘴𝘪𝘢 𝘭𝘪𝘷𝘦 𝘣𝘦𝘭𝘰𝘸 𝘵𝘩𝘦 𝘱𝘰𝘷𝘦𝘳𝘵𝘺 𝘭𝘪𝘯𝘦. 𝘈 𝘧𝘶𝘳𝘵𝘩𝘦𝘳 20 𝘱𝘦𝘳𝘤𝘦𝘯𝘵 𝘵𝘦𝘦𝘵𝘦𝘳 𝘰𝘯 𝘵𝘩𝘦 𝘣𝘳𝘪𝘯𝘬, 𝘸𝘪𝘵𝘩 𝘪𝘯𝘤𝘰𝘮𝘦 𝘫𝘶𝘴𝘵 𝘮𝘢𝘳𝘨𝘪𝘯𝘢𝘭𝘭𝘺 𝘢𝘣𝘰𝘷𝘦 𝘱𝘰𝘷𝘦𝘳𝘵𝘺. 𝘐𝘯 𝘳𝘶𝘳𝘢𝘭 𝘉𝘢𝘭𝘪 𝘵𝘩𝘦 𝘥𝘦𝘴𝘱𝘦𝘳𝘢𝘵𝘪𝘰𝘯 𝘪𝘴 𝘢𝘮𝘱𝘭𝘪𝘧𝘪𝘦𝘥. 𝘐𝘵𝘴 𝘷𝘪𝘭𝘭𝘢𝘨𝘦𝘴 𝘧𝘢𝘤𝘦 𝘱𝘰𝘷𝘦𝘳𝘵𝘺 𝘳𝘢𝘵𝘦𝘴 𝘢𝘣𝘰𝘷𝘦 35 𝘱𝘦𝘳𝘤𝘦𝘯𝘵."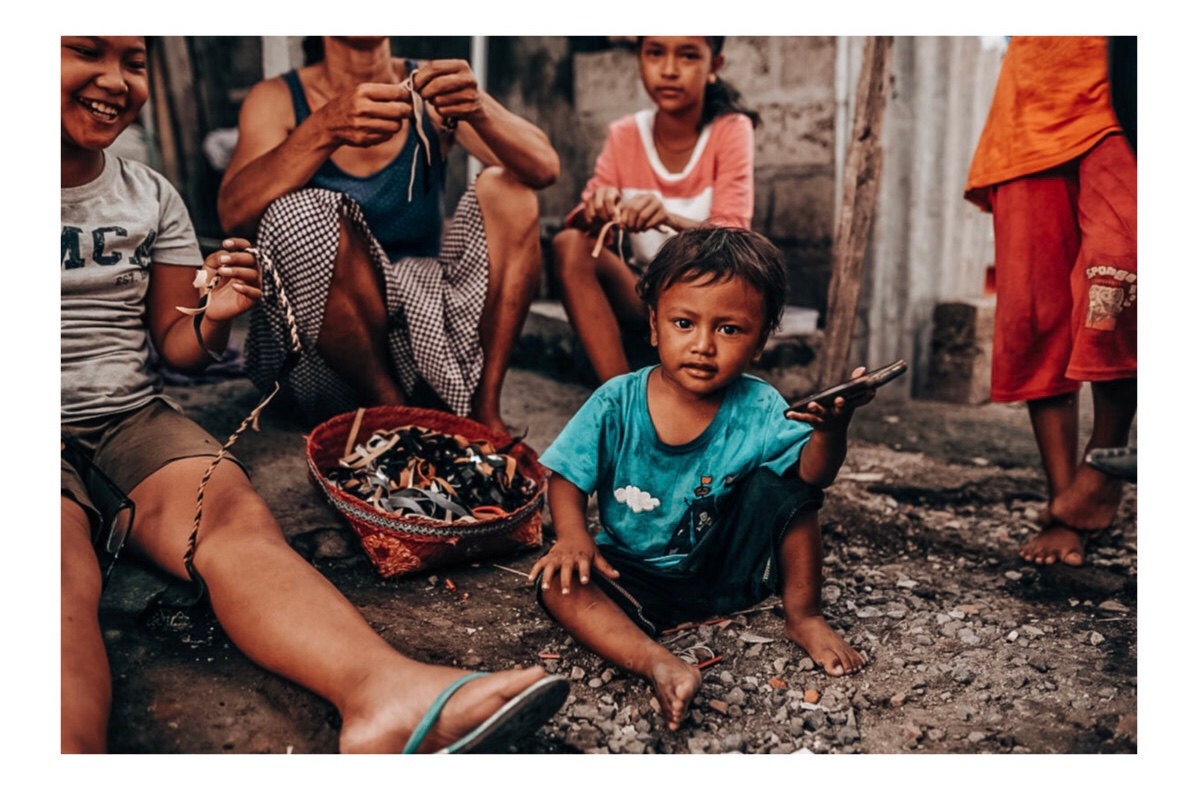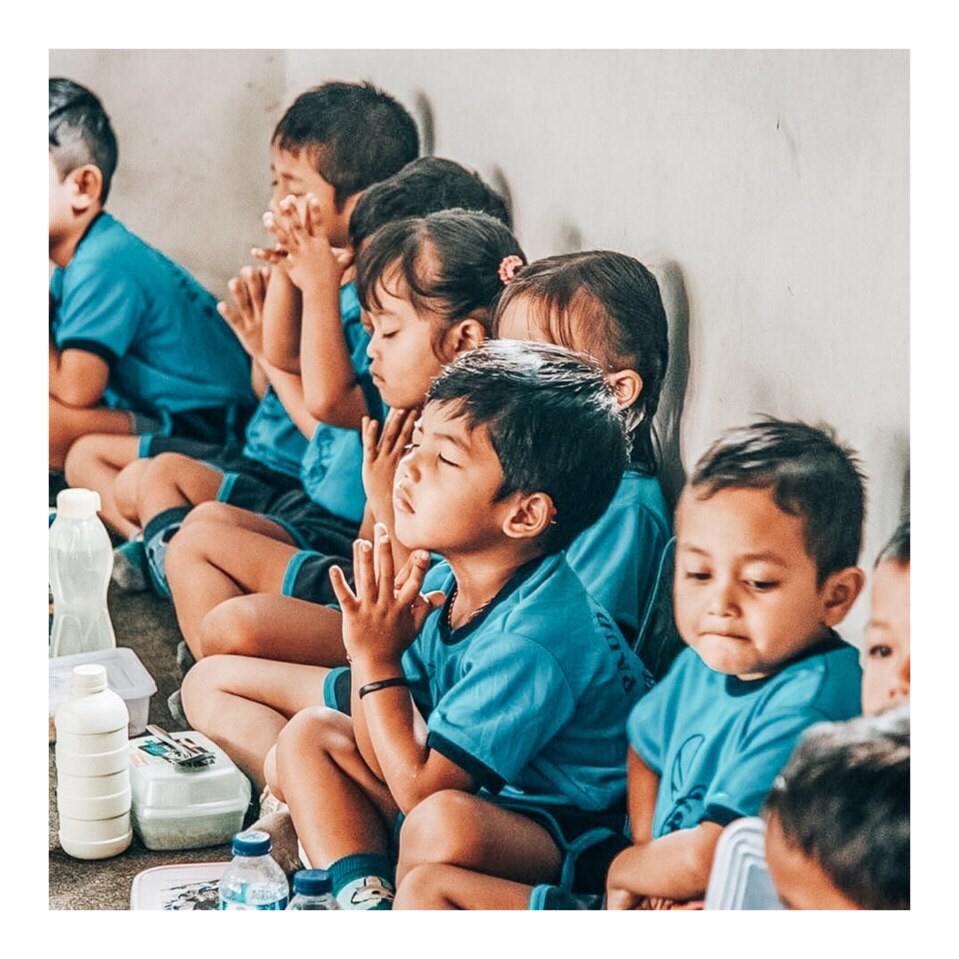 "𝙊𝙪𝙧 𝙬𝙤𝙧𝙠 𝙝𝙚𝙡𝙥 𝙢𝙪𝙢𝙨 𝙖𝙣𝙙 𝙘𝙝𝙞𝙡𝙙𝙧𝙚𝙣 𝙞𝙣 𝙨𝙞𝙭 𝙬𝙖𝙮𝙨:
 - 𝙍𝙀𝙎𝘾𝙐𝙄𝙉𝙂 𝘼𝘽𝙐𝙎𝙀𝘿 𝘾𝙃𝙄𝙇𝘿𝙍𝙀𝙉
   𝘏𝘶𝘯𝘥𝘳𝘦𝘥𝘴 𝘰𝘧 𝘪𝘯𝘵𝘦𝘳𝘯𝘢𝘵𝘪𝘰𝘯𝘢𝘭 𝘴𝘦𝘹 𝘵𝘳𝘢𝘧𝘧𝘪𝘤𝘬𝘦𝘳𝘴 𝘢𝘳𝘳𝘪𝘷𝘦 𝘪𝘯 𝘉𝘢𝘭𝘪 𝘦𝘢𝘤𝘩 𝘮𝘰𝘯𝘵𝘩, 𝘸𝘪𝘵𝘩 𝘵𝘩𝘦 𝘢𝘪𝘮 𝘰𝘧 𝘢𝘴𝘴𝘢𝘶𝘭𝘵𝘪𝘯𝘨 𝘷𝘶𝘭𝘯𝘦𝘳𝘢𝘣𝘭𝘦 𝘤𝘩𝘪𝘭𝘥𝘳𝘦𝘯 𝘰𝘯 𝘵𝘩𝘦 𝘴𝘵𝘳𝘦𝘦𝘵𝘴.
𝘋𝘪𝘢𝘯𝘥𝘳𝘢, 𝘰𝘶𝘳 𝘚𝘰𝘤𝘪𝘢𝘭 𝘞𝘰𝘳𝘬𝘦𝘳 𝘢𝘯𝘥 𝘊𝘩𝘪𝘭𝘥 𝘗𝘴𝘺𝘤𝘩𝘰𝘭𝘰𝘨𝘪𝘴𝘵, 𝘸𝘰𝘳𝘬𝘴 𝘸𝘪𝘵𝘩 𝘱𝘰𝘭𝘪𝘤𝘦 𝘵𝘰 𝘳𝘦𝘴𝘤𝘶𝘦 𝘢𝘯𝘥 𝘳𝘦𝘩𝘢𝘣𝘪𝘭𝘪𝘵𝘢𝘵𝘦 𝘢𝘣𝘶𝘴𝘦𝘥 𝘤𝘩𝘪𝘭𝘥𝘳𝘦𝘯, 𝘢𝘯𝘥 𝘤𝘰𝘯𝘷𝘪𝘤𝘵 𝘵𝘩𝘦 𝘰𝘧𝘧𝘦𝘯𝘥𝘦𝘳𝘴.
 - 𝙋𝙍𝙊𝙑𝙄𝘿𝙄𝙉𝙂 𝙎𝘼𝙁𝙀, 𝘾𝙊𝙈𝙁𝙊𝙍𝙏𝘼𝘽𝙇𝙀 𝙃𝙊𝙐𝙎𝙄𝙉𝙂
   𝘔𝘢𝘯𝘺 𝘰𝘧 𝘵𝘩𝘦 𝘮𝘶𝘮𝘴 𝘢𝘯𝘥 𝘬𝘪𝘥𝘴 𝘭𝘪𝘷𝘦 𝘪𝘯 𝘴𝘮𝘢𝘭𝘭 𝘩𝘶𝘵𝘴 𝘸𝘪𝘵𝘩 𝘮𝘶𝘥 𝘧𝘭𝘰𝘰𝘳𝘴 𝘢𝘯𝘥 𝘯𝘰 𝘴𝘢𝘯𝘪𝘵𝘢𝘵𝘪𝘰𝘯 𝘪𝘯 𝘥𝘢𝘯𝘨𝘦𝘳𝘰𝘶𝘴 𝘴𝘭𝘶𝘮𝘴. 𝘞𝘦 𝘮𝘰𝘷𝘦 𝘵𝘩𝘦 𝘮𝘶𝘮𝘴 𝘢𝘯𝘥 𝘬𝘪𝘥𝘴 𝘪𝘯𝘵𝘰 𝘤𝘭𝘦𝘢𝘯, 𝘴𝘢𝘧𝘦, 𝘤𝘰𝘮𝘧𝘰𝘳𝘵𝘢𝘣𝘭𝘦 𝘩𝘰𝘶𝘴𝘪𝘯𝘨 — 𝘢𝘸𝘢𝘺 𝘧𝘳𝘰𝘮 𝘵𝘩𝘦 𝘤𝘳𝘰𝘴𝘴𝘩𝘢𝘪𝘳𝘴 𝘰𝘧 𝘴𝘦𝘹 𝘵𝘳𝘢𝘧𝘧𝘪𝘤𝘬𝘦𝘳𝘴.
 - 𝙁𝙀𝙀𝘿𝙄𝙉𝙂 𝙏𝙃𝙀 𝙃𝙐𝙉𝙂𝙍𝙔
   𝘔𝘰𝘴𝘵 𝘤𝘩𝘪𝘭𝘥𝘳𝘦𝘯 𝘭𝘪𝘷𝘪𝘯𝘨 𝘪𝘯 𝘵𝘩𝘦 𝘴𝘭𝘶𝘮𝘴 𝘪𝘯 𝘉𝘢𝘭𝘪, 𝘨𝘦𝘵 𝘵𝘰 𝘦𝘢𝘵 𝘰𝘯𝘭𝘺 𝘰𝘯𝘦 𝘣𝘰𝘸𝘭 𝘰𝘧 𝘳𝘪𝘤𝘦 𝘱𝘦𝘳 𝘥𝘢𝘺, 𝘳𝘦𝘴𝘶𝘭𝘵𝘪𝘯𝘨 𝘪𝘯 𝘮𝘢𝘭𝘯𝘶𝘵𝘳𝘪𝘵𝘪𝘰𝘯 𝘢𝘯𝘥 𝘪𝘭𝘭𝘯𝘦𝘴𝘴. 𝘞𝘦 𝘱𝘳𝘰𝘷𝘪𝘥𝘦 𝘢 𝘧𝘶𝘭𝘭 𝘱𝘳𝘰𝘵𝘦𝘪𝘯 𝘣𝘳𝘦𝘢𝘬𝘧𝘢𝘴𝘵, 𝘧𝘳𝘶𝘪𝘵, 𝘮𝘪𝘭𝘬 𝘢𝘯𝘥 𝘷𝘪𝘵𝘢𝘮𝘪𝘯 𝘊 𝘴𝘶𝘱𝘱𝘭𝘦𝘮𝘦𝘯𝘵𝘴 𝘵𝘰 35 𝘴𝘵𝘳𝘦𝘦𝘵 𝘬𝘪𝘥𝘴 𝘱𝘦𝘳 𝘥𝘢𝘺.
 - 𝙈𝙀𝘿𝙄𝘾𝘼𝙇 𝘼𝙄𝘿 𝘼𝙉𝘿 𝘾𝙊𝙐𝙉𝙎𝙀𝙇𝙄𝙉𝙂
   𝘈𝘧𝘵𝘦𝘳 𝘺𝘦𝘢𝘳𝘴 𝘰𝘧 𝘣𝘦𝘨𝘨𝘪𝘯𝘨 𝘰𝘯 𝘵𝘩𝘦 𝘴𝘵𝘳𝘦𝘦𝘵𝘴, 𝘮𝘢𝘯𝘺 𝘤𝘩𝘪𝘭𝘥𝘳𝘦𝘯 𝘢𝘳𝘦 𝘮𝘢𝘭𝘯𝘰𝘶𝘳𝘪𝘴𝘩𝘦𝘥 𝘢𝘯𝘥 𝘩𝘢𝘷𝘦 𝘴𝘶𝘧𝘧𝘦𝘳𝘦𝘥 𝘮𝘦𝘯𝘵𝘢𝘭, 𝘱𝘩𝘺𝘴𝘪𝘤𝘢𝘭 𝘢𝘯𝘥 𝘴𝘦𝘹𝘶𝘢𝘭 𝘢𝘣𝘶𝘴𝘦. 𝘞𝘦 𝘱𝘳𝘰𝘷𝘪𝘥𝘦 𝘢𝘴 𝘮𝘶𝘤𝘩 𝘮𝘦𝘥𝘪𝘤𝘢𝘭 𝘢𝘪𝘥 𝘢𝘯𝘥 𝘤𝘰𝘶𝘯𝘴𝘦𝘭𝘭𝘪𝘯𝘨 𝘢𝘴 𝘵𝘩𝘦𝘺 𝘯𝘦𝘦𝘥.
 - 𝙀𝘿𝙐𝘾𝘼𝙏𝙄𝙉𝙂 𝙏𝙃𝙀 𝙆𝙄𝘿𝙎
   𝘊𝘩𝘪𝘭𝘥𝘳𝘦𝘯 𝘸𝘩𝘰 𝘢𝘳𝘦 𝘣𝘦𝘨𝘨𝘪𝘯𝘨 𝘶𝘱 𝘵𝘰 12 𝘩𝘰𝘶𝘳𝘴 𝘢 𝘥𝘢𝘺 𝘰𝘯 𝘵𝘩𝘦 𝘩𝘰𝘵 𝘴𝘵𝘳𝘦𝘦𝘵𝘴 𝘰𝘧 𝘒𝘶𝘵𝘢 𝘥𝘰 𝘯𝘰𝘵 𝘨𝘦𝘵 𝘵𝘰 𝘨𝘰 𝘵𝘰 𝘴𝘤𝘩𝘰𝘰𝘭. 𝘖𝘯𝘤𝘦 𝘸𝘦 𝘳𝘦𝘴𝘤𝘶𝘦 𝘵𝘩𝘦 𝘬𝘪𝘥𝘴 𝘧𝘳𝘰𝘮 𝘵𝘩𝘦 𝘴𝘵𝘳𝘦𝘦𝘵𝘴 𝘸𝘦 𝘦𝘯𝘳𝘰𝘭𝘭 𝘵𝘩𝘦𝘮 𝘪𝘯 𝘴𝘤𝘩𝘰𝘰𝘭, 𝘱𝘳𝘰𝘷𝘪𝘥𝘪𝘯𝘨 𝘶𝘯𝘪𝘧𝘰𝘳𝘮𝘴, 𝘣𝘰𝘰𝘬𝘴 𝘢𝘯𝘥 𝘴𝘤𝘩𝘰𝘰𝘭 𝘧𝘦𝘦𝘴.
𝘔𝘢𝘯𝘺 𝘰𝘧 𝘵𝘩𝘦𝘮 𝘩𝘢𝘷𝘦 𝘣𝘦𝘦𝘯 𝘣𝘦𝘨𝘨𝘪𝘯𝘨 𝘧𝘰𝘳 8-10 𝘺𝘦𝘢𝘳𝘴, 𝘥𝘰𝘯'𝘵 𝘩𝘢𝘷𝘦 𝘣𝘪𝘳𝘵𝘩 𝘤𝘦𝘳𝘵𝘪𝘧𝘪𝘤𝘢𝘵𝘦𝘴, 𝘢𝘯𝘥 𝘥𝘰𝘯'𝘵 𝘬𝘯𝘰𝘸 𝘵𝘩𝘦 𝘮𝘦𝘢𝘯𝘪𝘯𝘨 𝘰𝘧 𝘵𝘩𝘦 𝘸𝘰𝘳𝘥 "𝘱𝘭𝘢𝘺." 𝘞𝘩𝘦𝘯 𝘸𝘦 𝘵𝘦𝘭𝘭 𝘵𝘩𝘦𝘮 𝘵𝘰 𝘩𝘢𝘷𝘦 𝘧𝘶𝘯, 𝘵𝘩𝘦𝘺 𝘴𝘵𝘢𝘳𝘵 𝘴𝘸𝘦𝘦𝘱𝘪𝘯𝘨 — 𝘣𝘦𝘤𝘢𝘶𝘴𝘦 𝘴𝘪𝘮𝘱𝘭𝘦 𝘸𝘰𝘳𝘬 𝘪𝘴 𝘵𝘩𝘦𝘪𝘳 𝘷𝘦𝘳𝘴𝘪𝘰𝘯 𝘰𝘧 "𝘧𝘶𝘯," 𝘤𝘰𝘮𝘱𝘢𝘳𝘦𝘥 𝘵𝘰 𝘩𝘢𝘳𝘥 𝘭𝘢𝘣𝘰𝘳. 𝘖𝘶𝘳 𝘴𝘰𝘤𝘪𝘢𝘭 𝘸𝘰𝘳𝘬𝘦𝘳, 𝘋𝘪𝘢𝘯𝘥𝘳𝘢, 𝘩𝘦𝘭𝘱𝘴 𝘧𝘪𝘹 𝘢𝘭𝘭 𝘵𝘩𝘢𝘵 𝘴𝘰 𝘵𝘩𝘦𝘺 𝘤𝘢𝘯 𝘭𝘦𝘢𝘳𝘯 𝘵𝘰 𝘣𝘦 𝘤𝘩𝘪𝘭𝘥𝘳𝘦𝘯 𝘢𝘨𝘢𝘪𝘯.
 - 𝙀𝙈𝙋𝙊𝙒𝙀𝙍𝙄𝙉𝙂 𝙏𝙃𝙀 𝙈𝙐𝙈𝙎
   𝘐𝘵 𝘪𝘴 𝘪𝘮𝘱𝘰𝘳𝘵𝘢𝘯𝘵 𝘵𝘩𝘦 𝘮𝘰𝘵𝘩𝘦𝘳𝘴 𝘦𝘢𝘳𝘯 𝘢𝘯 𝘪𝘯𝘤𝘰𝘮𝘦 𝘴𝘰 𝘵𝘩𝘢𝘵 𝘵𝘩𝘦𝘺 𝘥𝘰 𝘯𝘰𝘵 𝘵𝘢𝘬𝘦 𝘵𝘩𝘦𝘪𝘳 𝘤𝘩𝘪𝘭𝘥𝘳𝘦𝘯 𝘣𝘢𝘤𝘬 𝘵𝘰 𝘵𝘩𝘦 𝘴𝘵𝘳𝘦𝘦𝘵𝘴 𝘵𝘰 𝘣𝘦𝘨. 𝘞𝘦 𝘵𝘦𝘢𝘤𝘩 𝘵𝘩𝘦 𝘮𝘰𝘵𝘩𝘦𝘳𝘴 𝘩𝘢𝘯𝘥𝘪𝘤𝘳𝘢𝘧𝘵𝘴, 𝘸𝘩𝘪𝘤𝘩 𝘢𝘳𝘦 𝘵𝘩𝘦𝘯 𝘴𝘰𝘭𝘥 𝘵𝘩𝘳𝘰𝘶𝘨𝘩 𝘷𝘢𝘳𝘪𝘰𝘶𝘴 𝘴𝘩𝘰𝘱𝘴 𝘢𝘯𝘥 𝘮𝘢𝘳𝘬𝘦𝘵𝘴 𝘱𝘳𝘰𝘷𝘪𝘥𝘪𝘯𝘨 𝘵𝘩𝘦 𝘮𝘶𝘮𝘴 𝘸𝘪𝘵𝘩 𝘢𝘯 𝘪𝘯𝘤𝘰𝘮𝘦."